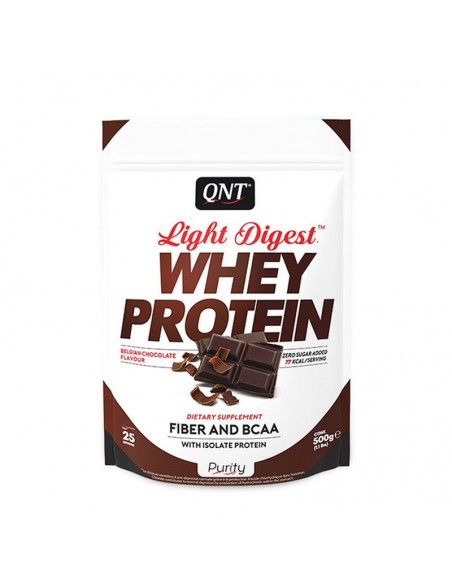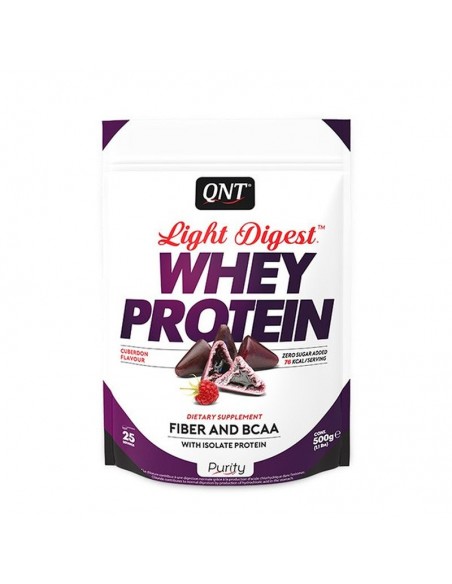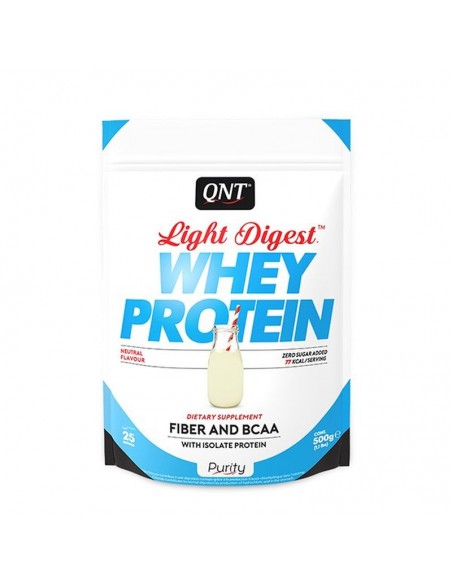 QNT - Light Digest Whey Protein Highlights
Whey protein made from whey protein concentrate and isolate with a high protein content
extravagant design that appeals especially to recreational and occasional athletes
very good taste with good solubility behaviour - both in milk and water
with high fibre content for optimised digestion of the protein
does not pollute
in 10, partly completely new, flavours
very good price/performance ratio
Whey protein-based products have been among the absolute bestsellers in the industry since the 70s - it's no wonder that the market now boasts an unprecedented abundance of products competing fiercely for the customer's favour. Real innovations are rare, on the contrary: Due to the strong competitive pressure, many manufacturers see themselves forced to give expensive and fancy formulas the boot and instead market simple concentrates, which can still be sold cheaply thanks to their high carbohydrate and fat content.
With its Light Digest Whey Protein, QNT is now launching a comprehensive offensive on the competitive Whey Protein market: With a very successful design that actually suggests something edible and not machine oil in the bag, a good and proven Whey matrix of concentrate and isolate, a formula enriched with inulin for optimized digestion and absorption, and a tightly calculated price, Light Digest Whey could finally bring a breath of fresh air to the well-worn battlefield of the protein giants.
Protein for the masses
Without question, QNT Light Digest Whey Protein would provide hardcore bodybuilders with exactly what they need to build massive muscles. After all, we already know the key ingredient, a blend of Whey Protein concentrate and isolate, from other best-sellers in the industry, such as Optimum Nutrition's 100% Whey Gold Standard, which tends to satisfy demand in the performance ranks.
With its Whey Protein, however, QNT is clearly aiming at the masses of amateur athletes. In particular, the design immediately catches the eye - although it does not set new standards, it convinces with modern elegance and definitely stimulates curiosity. Whoever decides to buy Light Digest Whey will be adding a real eye-catcher to their portfolio, turning shop windows and boring sales shelves into a visual attraction. The relatively high fibre content due to the addition of inulin also enhances the quality of the product and makes it particularly interesting for health-oriented customers.
| Nutritional information | per 100 g | per serving |
| --- | --- | --- |
| Calorific value | 1607 kJ / 384 kcal | 321 kJ / 77 kcal |
| Fat | 4,8 g | 1 g |
| ges. Fatty acids | 3,4 g | 0,7 g |
| Carbohydrates | 8 g | 1,6 g |
| thereof sugar | 7,5 g | 1,5 g |
| Dietary fibre | 3,3 g | 0,7 g |
| Protein | 78,3 g | 15,7 g |
| Salt | 0,44 g | 0,09 g |